Arizona Music Initiative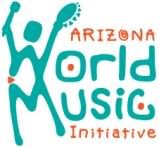 Coming in 2017 - the AZWMI Business Symposium.
The symposium will be held in Phoenix, AZ, and will be tailored with workshops and classes to help musicians learn business aspects of the music industry, and helping them to explore all possible revenue streams for their music, and to aid with proper documentation to do so.
Now featuring two programs - one for education and one for music therapy!
EDUCATIONAL PROGRAMS - The AZ Music Initiative is a non-profit 501C3 music organization located in Phoenix, AZ. AZWMI takes pride in it's workshops for grades K-5. Our goal is to inspire, educate and entertain children, seniors, and people with special needs. We create music awareness, build self-esteem, and unleash musical potential in participants.
Please contact us if you would like to receive a brochure or more information!
Our basic program is broken down in 5 sessions:
First session: Performance given by AZWMI musicians. Introduction to the instruments and their sounds.
Second Session: Teaching rhythms, simple to complex depending on the abilities of the students, using AZWMI provided instruments. We will talk to student about objects and recycled items that they can bring in from home to make instruments.
Third Session: Making instruments from recycled materials.
Fourth Session: Using made instruments and learned rhythms and playing with AZWMI musicians.
Fifth Session: A final performance with the students performing alongside AZWMI musicians for their school, parents, etc. The program can be shortened or extended into more session depending on the needs and desires of the teachers and schools.
AZWMI tailors our program to the needs of your school/event.
MUSIC THERAPY - AZWMI has started a new program with the Finzer Mahoney Duo in performing healing, ambient music for those going through physical or mental illnesses, with a strong focus on those going through cancer treatments. Darin Mahoney is a Stage IV cancer survivor, and brings much knowledge and as well as an abundance of caring to relate to patients in our healing performances.
Donations to AZWMI can be made through Paypal
"Music education opens doors that help children pass from school into the world around them — a world of work, culture, intellectual activity, and human involvement. The future of our nation depends on providing our children with a complete education that includes music." ~ Gerald Ford